Happy March! I could say it every month (or really, every day) but time seems to be passing quite quickly. The consequences of a short month, I suppose.
However, February was a fantastic month for reading. I loved most of what I read and made great progress on my goal of 100 books for the year by reading book #20 by the end of the second month. Yup, I changed it from 52 because while I don't believe in pushing yourself super hard things you do for purely for pleasure (reading in this case), there's something satisfying about keeping track of it and knowing that I will likely reach my goal.
Here's what I read this month: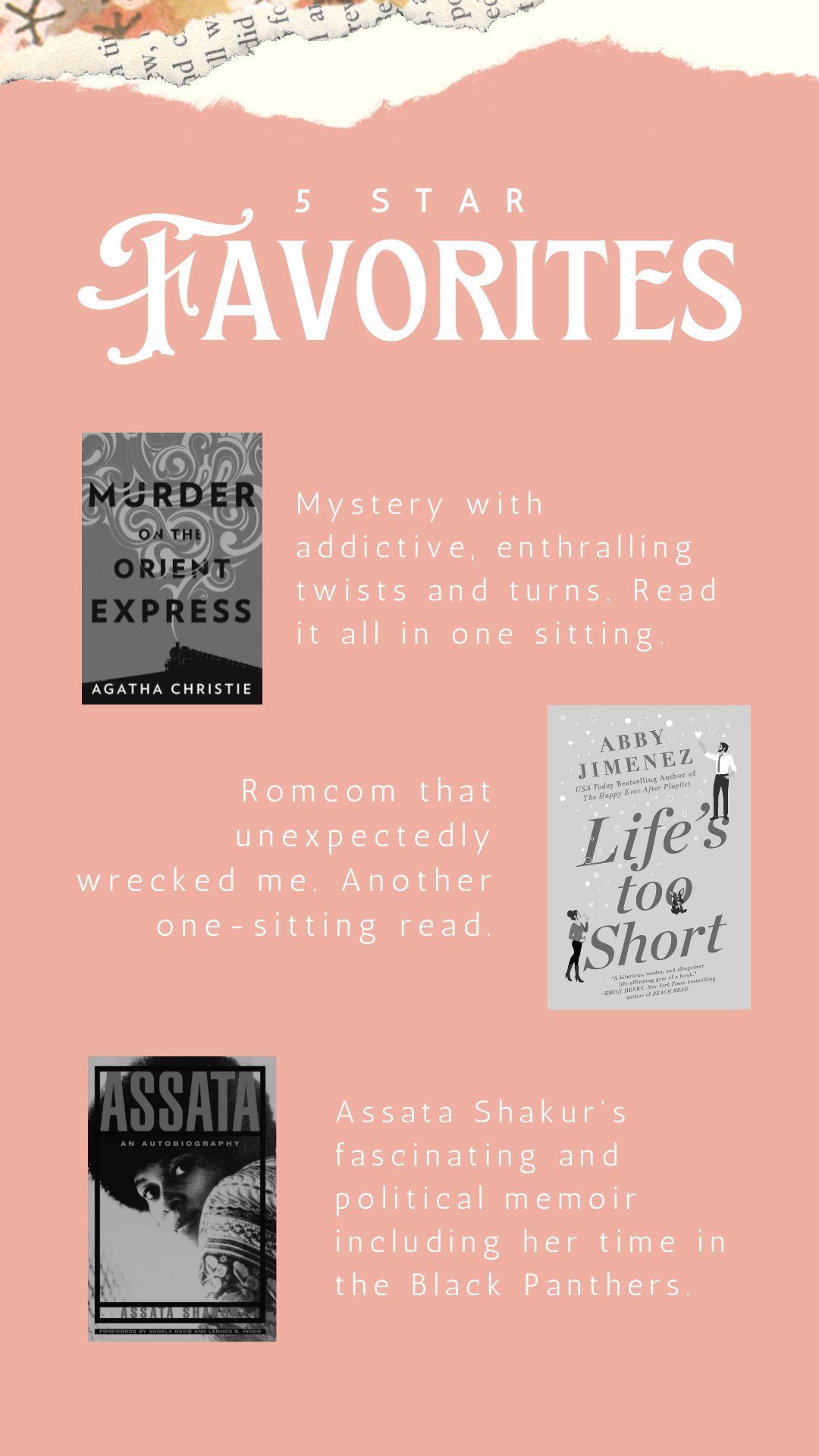 First up as always, my 5 star favorites:
Murder on the Orient Expressby Agatha Christie — This month, I read my very first Agatha Christie and I can hardly believe it took me that long. I picked a copy up at a thrift store and figured I'd give it a shot, and boy, am I glad I did. The twist at the end (don't worry, I won't spoil the book written in 1934) took me completely by surprise, despite being so obvious once you know it. The mark of a great mystery novel, in my opinion. Absolutely loved this one!
Life's too Short by Abby Jimenez — I was recommended this book from a forum and it was a completely blind read for me; the only thing I knew was that "it's like the movie Life As We Know It." What I was not expecting was for it to engage me and hit me as hard as it did emotionally! It definitely fell into one of those books where the reader really has to suspend a lot of disbelief, but I thoroughly enjoyed it. Another one-sitting reading for me that I really, truly enjoyed.
Assata: an Autobiography by Assata Shakur — What's the difference between an autobiography and a memoir? I couldn't tell you, but I put memoir in the graphic because it fit better, ha! I've had a stack of biographies and autobiographies on my shelf for a while now and I'm so glad I picked this one up — incredibly engaging, highly political, and justifiably infuriating. It will be the gold standard for me on memoirs for a long time to come!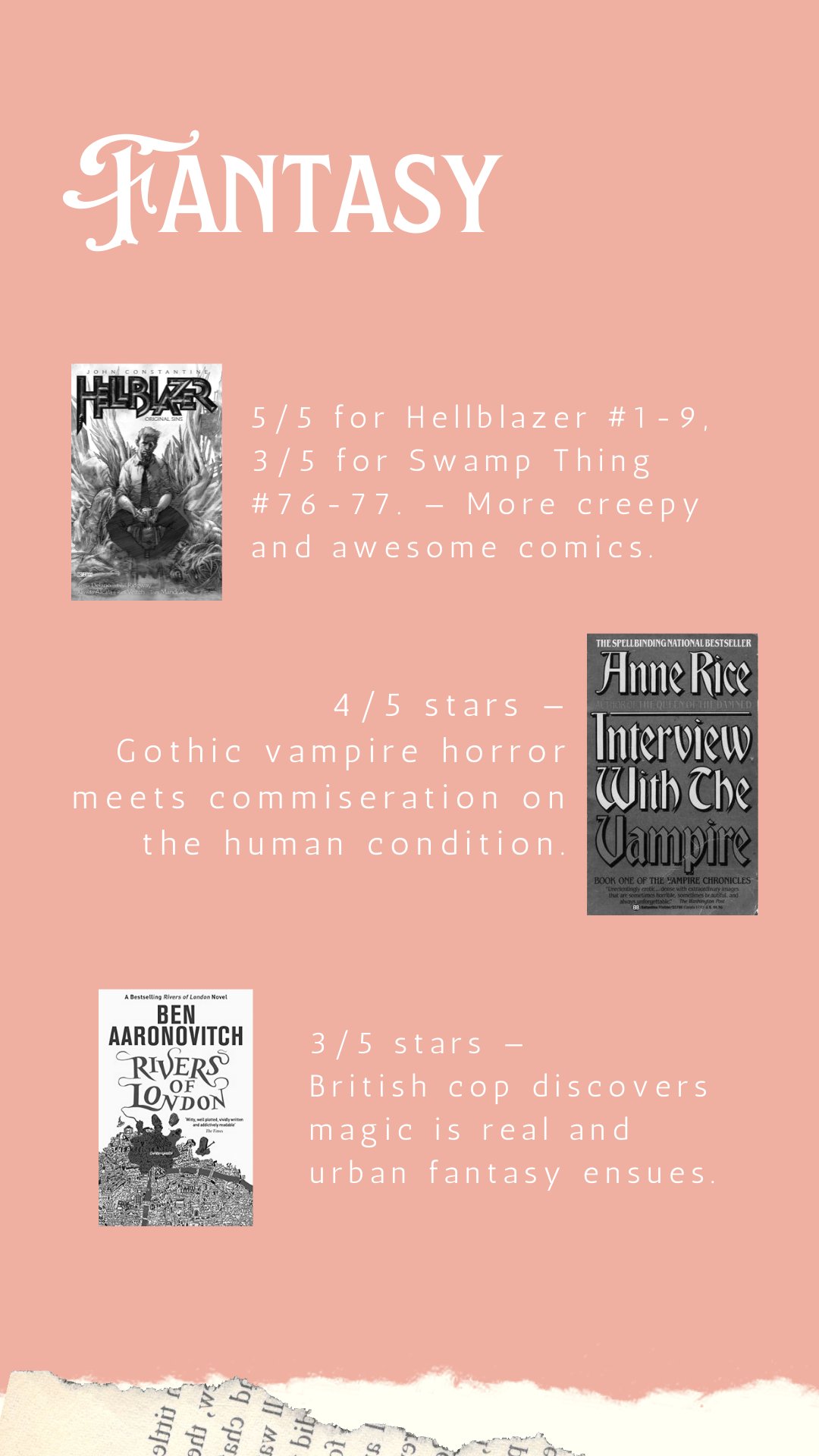 A solid month for fantasy reading:
Hellblazer Volume One: Original Sins by Jamie Delano — Consider me obsessed because I am. I've since acquired Volumes 2 and 4-6 of Hellblazer and have every intention of reading them all this year. These horror comics, which feature occult magician John Constantine, are creepy, engaging, existential, and oh-so-80's. I wasn't the hugest fan of the Swamp Thing inclusions, although that's where John Constantine was originally brought into the Veritgo Comics fandom.
Interview with the Vampire by Anne Rice — New Orleans. Death. Vampires. Stalking. An immortal child. Paris. Creeps galore and while I had to push myself through the first 100 or so pages, the last 100 pages absolutely made up for it. The ending was exactly what I wanted. Commiseration on the human (or vampire) condition commenced and I loved every grueling second of it.
Rivers of London by Ben Aaronovitch — A little bit of a disappointing read for me, which I suppose I should've expected given the fact that it was supposed to be like the Dresden Files book of which the first book in that series also disappointed me. I found myself really dragging through the book; nothing about it was particularly riveting for me. Had to give it a few stars for a very cool magic system and interesting magical applications.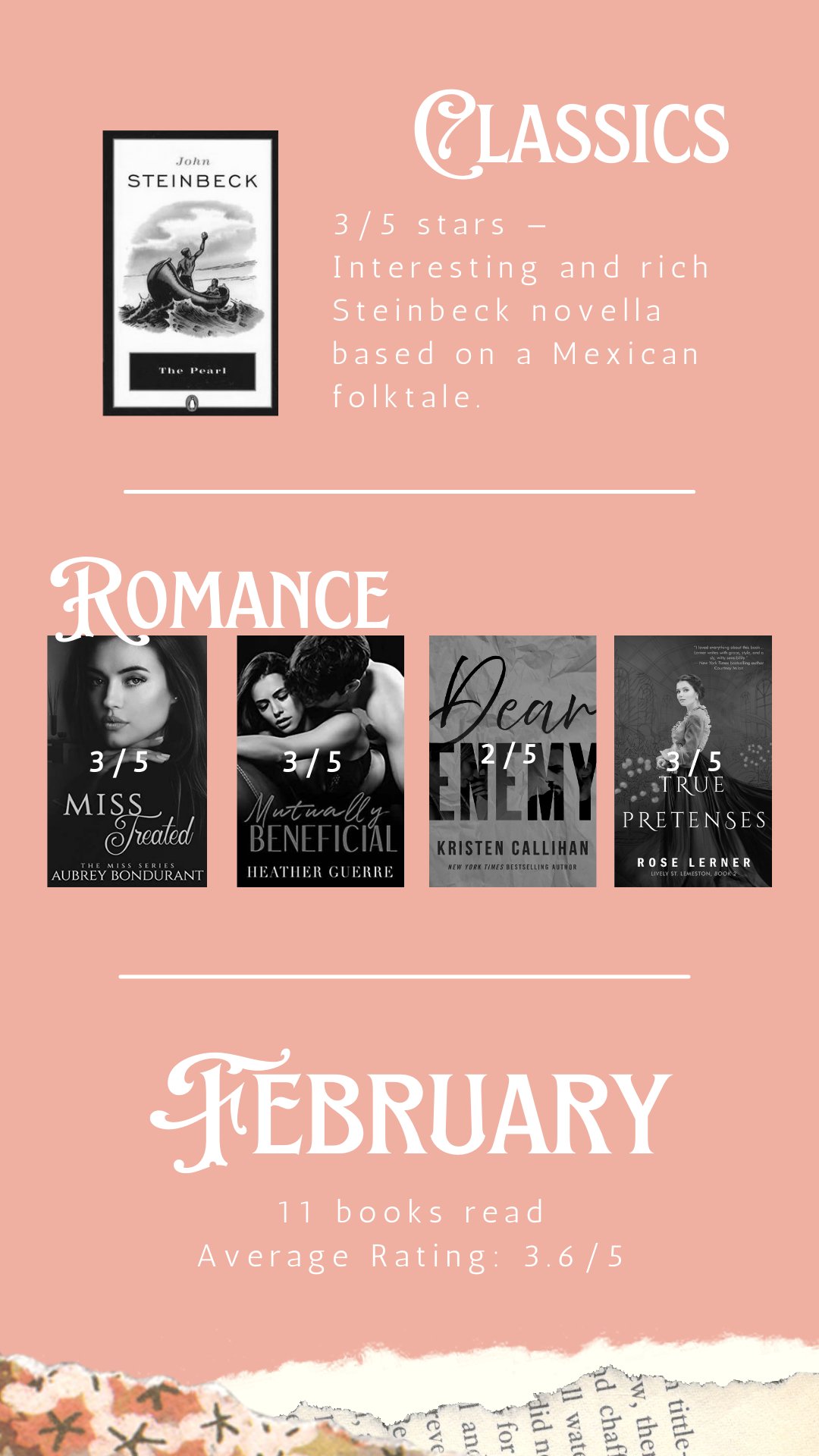 Finally, the randoms:
The Pearlby John Steinbeck — I haven't read a ton of Steinbeck in my life (maybe three novels?), but I'm trying to read more classics this year and this seemed like a short and easy read. The imagery is gorgeous and lush, the plot based on a Mexican folktale and overall, I really enjoyed it.
I'm going to group all of these together because… why not? As always, please check the trigger warnings on any novels you plan on reading.

Miss Treatedwas definitely my favorite of the month with a charming female main character (FMC) and male main character (MMC) but the ending was just a little too much for me.
Mutually Beneficialwas trashy and fun, but honestly could've used about a hundred more pages which is a very rare thing for me to wish for from a book; the plot and development felt extremely rushed.
I really should just learn my lesson that I want nothing to do with bully romances, because Dear Enemy just missed the mark for me. So many of the behaviors from the MMC made me cringe.
True Pretenseswas history-heavy historical romance, and that's the only reason it didn't get higher. When I'm reading a romance, I truly only care about the romance. Oops! Lesson learned.
That's all, folks!
February: 11 books read with an average rating of 3.6 stars.
See you next month for March's wrap-up!